Brian Meier spoke with Oshrat Carmiel of Bloomberg about the current state of the New York City real estate market. The general theme throughout the article is that the New York City real estate markets are off their all-time highs but there are buyers out there — they are just looking for a price improvement anywhere from 2% to 20%. Where there was a bidding war for properties 6 to 12 months ago, a seller needs to be willing to work with a potential buyer as to price, financing and related terms that may influence the buyer's ability to make an offer.
The Bloomberg article (link here) is timely because of the confluence of events taking place, including higher mortgage rates, increased supply of luxury apartments, a pro-market platform for the President-elect and the buyer's ability to digest all the new market variables. Although a wait-and-see strategy seems to be the most conservative, those buyers who find the right property to fit their needs will benefit greatly if they lock in historically low mortgage rates before the potential influence of inflation. The low cost of capital combined with an attractive property will pay dividends. Brian Meier and his team are focused on assisting buyers and sellers through this transitory time using their experience and market breadth.
Manhattan Home Resellers Slow Deals With Dreams of 40% Returns
Apartment owners seeking buyers grapple with growing supply

Brokers have to tell sellers 'things they don't want to hear'
Some Manhattan apartment owners trying to sell their homes have big dreams these days: They're seeking about 40 percent more than they paid for the properties, even if they were bought within the past five years.
This year through September, sellers listing apartments priced at $3 million or less that were bought in 2010 sought a median of 47 percent more than their purchase price, data compiled by StreetEasy show. Owners who bought in 2011 have returned homes to the market for a median 42 percent markup, and buyers from 2012 listed for 35 percent more, according to the real estate website.
"That detachment from the market, from what the value actually is, is a big part of why sales are down," said Jonathan Miller, president of appraiser Miller Samuel Inc.
The ambitious pricing, which took hold when Manhattan was starved for non-luxury listings, is bumping up against a new reality. As the inventory of sub-$3 million apartments gets replenished, sellers are sticking to their lofty expectations while buyers with more to choose from are refusing to bite. That disconnect is hobbling sales of previously owned homes in the borough, which plunged 20 percent in the third quarter from a year earlier, according to Miller Samuel and brokerage Douglas Elliman Real Estate.
"In my experience, it takes sellers a good one to two and a half years to believe in the new market," Miler said. "The buyers are with the program immediately."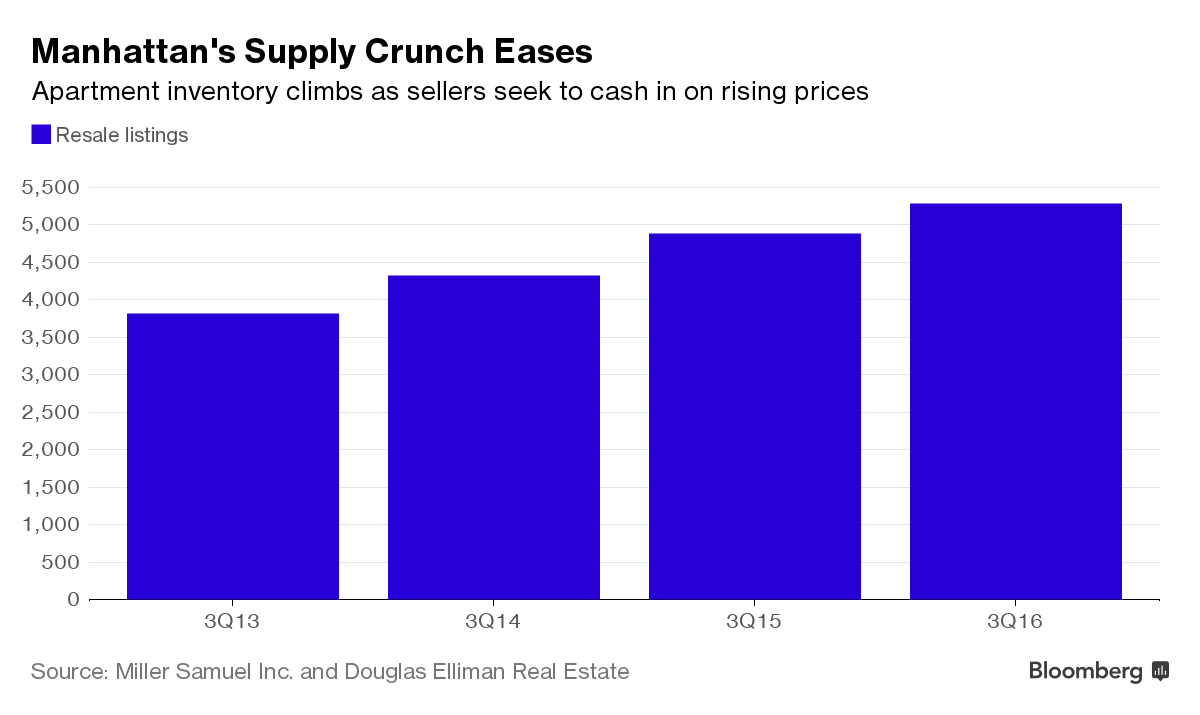 Growth in actual transaction prices hasn't matched sellers' aspirations. The median for all Manhattan resales in the third quarter was $950,000, or 11 percent more than in the same period of 2011, according to Miller Samuel.
"If it's a unique property, you may just get lucky and find that one buyer," said Rachel Altschuler, a broker with Douglas Elliman. "Of course, every seller thinks theirs is the most most unique, amazing property on the market, so you have to be prepared to say the things they don't want to hear."
Broker's Advice
Altschuler advises current clients to list their apartments for 3 to 5 percent below the market value, as a way to attract the widest pool of buyers and possibly spark a bidding war. Though finding the right price in a slowing resale market can be its own challenge since comparable deals completed six months ago may not be an accurate guide, she said.
Not long ago, things were different. Apartments for less than $3 million were scarce, the result of a post-recession development boom that focused on ultra-luxury condos aimed at investors. Resales in general were also in short supply, as owners refrained from listing their units because they couldn't trade up. Sellers who did put their homes on the market were reaping large returns from buyers fighting each other for what little was out there.
In the third quarter of 2015, buyers agreed to pay the asking price or higher in 31 percent of all Manhattan deals, the highest share since Miller Samuel and Douglas Elliman began tracking the data in 2008. That compares with only 17 percent of purchases in this year's third quarter. At the end of September, the inventory of resale homes was 53 percent higher than what was available in late 2013, which was the lowest point for listings in the firms' records.
Buyer Mentality
"There's a conversation to be had between buyer and seller — as long as you're not offensively overpriced," said Scott Harris, a broker with Brown Harris Stevens. "People are willing to make an offer, but the mentality is, if it's so overpriced, the seller is not serious."
Some owners have more leverage to push pricing. One-bedroom homes costing less than $1.2 million are "flying off the shelf," said Altschuler of Douglas Elliman. Apartments that don't need renovations, especially on the Upper West Side — a neighborhood popular with families — are also faring well, said Harris, who recently sold a two-bedroom duplex on West 81st Street above the $2.395 million asking price. And "if you own a studio in the West Village, you can name your price," Corcoran Group broker Brian Meier said.
Price Reductions
Some sellers who don't get their price are trying modest reductions, or pulling their listings temporarily. Meier, the Corcoran broker, said he's bringing five homes back to the market in January that failed to sell with previous agents because they were priced too high.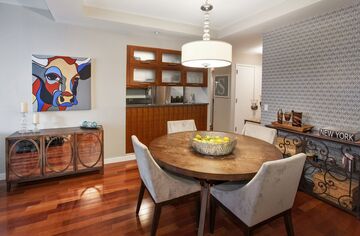 He just sealed a deal for one like that: a 1,556-square-foot (145-square-meter) three-bedroom condo on East 23rd Street originally listed in March for $2.75 million, a 53 percent markup from the July 2012 purchase price, according to StreetEasy. The owner lowered the price slightly before taking it off the market in June. It was relisted with Meier after Labor Day, this time at $2.63 million.
A contract was signed for the place on Monday, after the seller agreed to whittle about 10 percent off the price, and use some of the sale proceeds to lower the interest rate on the buyer's mortgage, Meier said. The buyer, who was pre-approved for a loan before mortgage rates jumped this month, had made an initial offer that was 15 percent below what the seller sought.
Changing Market
"You can't turn away from any deal — a year ago, you could," Meier said of his clients. "Everyone wants a little more money, but I think they feel like they've succeeded."
Of the apartments listed for $3 million or less at the end of September, 58 percent had gotten price cuts at some point while on the market, according to a StreetEasy analysis. The median decrease was about $46,000.
People interested in bidding on homes may still hesitate to make an offer for fear coming in too far below what an owner might agree to, Harris of Brown Harris Stevens said. But that's starting to change.
"Buyers are getting more confident in making lower offers," he said. "I don't know that sellers are happy to accept it yet.
---
---